Yvonne Nelson rejects jobseeker who once disrespected her on Twitter
– Advertisement –
Actress Yvonne Nelson has settled her scores the trivial way by denying a jobseeker an opportunity at her firm.
According to her, the supposed jobseeker had disrespected her on social media in the past and as a result, she decided to turn him away.
Yvonne Nelson intimated that that was her opportunity to pay the jobseeker who she had blocked on Twitter back.
In a tweet, Yvonne Nelson sent out a strong warning to netizens who disrespect celebrities or public figures.
According to her, such people have their destinies jeopardized ahead of time as they would not get any favour, help or opportunity.
Just as Bongo Ideas was chased out of the GhOne TV studios last year for ostensibly attacking celebrities on Twitter, Yvonne Nelson has also towed the same line.
She wrote: Stay on Twitter and continue fooling and insulting people you've never met. Your future self will regret it. One guy came for a job interview and i asked him for his twitter handle, guess what, i blocked him. Well….you know the rest. Keep fooling wai.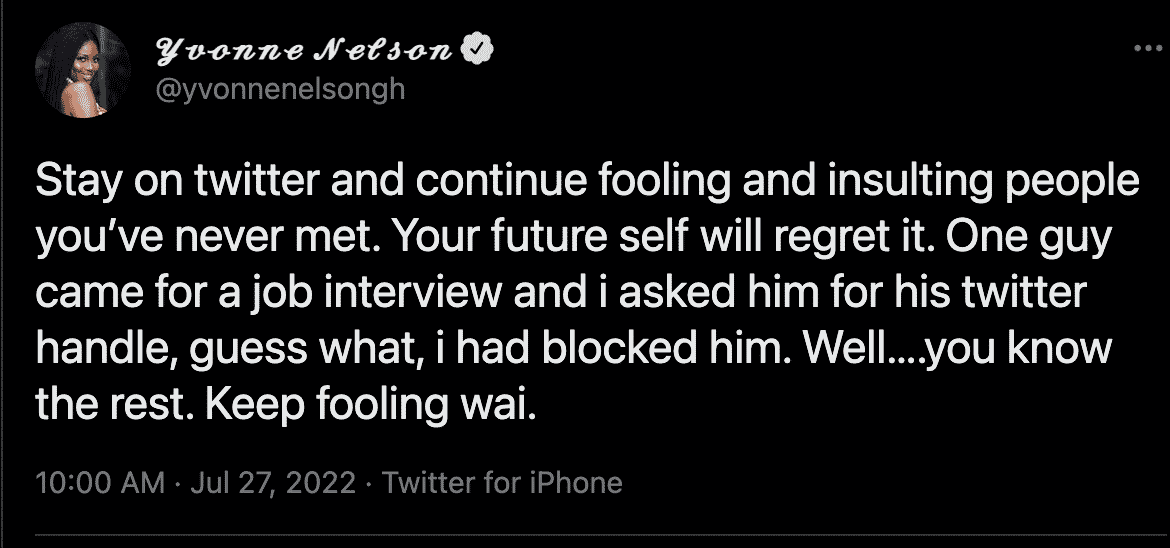 Meanwhile, many people have called out Yvonne Nelson for denying the jobseeker the opportunity.
According to many, if only the jobseeker qualified for the job, there was no need for her to try to settle scores that way.
@EgyaDoughnaAju wrote: And so what? Aaaaaarrrrrre you God Mtchew
@Iamtypa wrote: Ah so because u have blocked someone and denied that person of a job nti u spoil der long
@jamerlo_ wrote: In my time here at Twitter, I've seen people, especially celebrities blocking people because they disagreed with their opinions and ideas, what about that?
@aniscooer wrote: You're right Yvonne. We should just be mindful of how we use social media. Avoid bad words. If you don't have anything nice to say about people, remain quiet and you won't regret it.
@Ibrahim917 wrote: This is our mentality as Africans, When someone disagree with you/ doesn't put himself/herself on your shoes you'll say the person has insulted you. Someone went for an interview and you ask him about his Twitter handle as in? I don't get?