Photos of Kofi Adomah in a critical health condition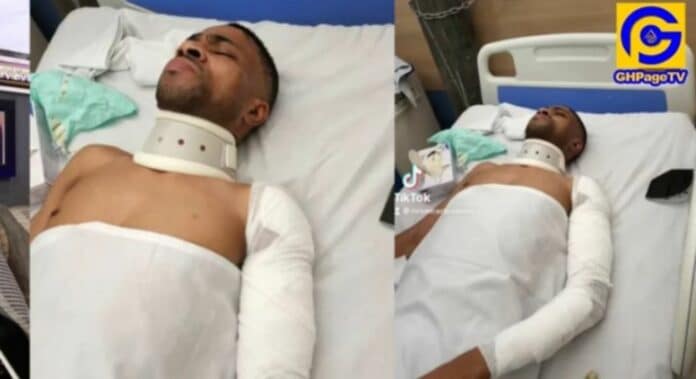 Mrs Miracle Adomah has shared a set of worrying pictures and videos of her husband, Mr Kofi Adomah laying unconsciously on the hospital bed.
In these photos, the Angel FM presenter who was attacked by a set of assailants just two weeks ago had bandages all over his arms and a neck brace to support his broken neck.
READ ALSO: Possible reasons why Kofi Adomah was attacked by unknown assailants
Apparently, Kofi Adomah had sustained fractures and severe injuries from the attack he suffered that nearly took his life.
Prior to the release of these unsettling pictures, Nana Yaa Brefo had claimed that Kofi Adomah was in a better health condition and was seriously responding to treatment.
It seems Nana Yaa Brefo lied to calm the fans of her colleague who were pressuring her to give them some exclusive details about Kofi Adomah's current health condition.
READ ALSO: Afia Schwar reacts after Kofi Adomah was nearly burned alive
With reference to the trending pictures and video, one can confirm that Kofi Adomah is in a critical health condition and all is not well as some media persons made us believe.
Mrs Miracle Adomah captioned the video as; My heart Mr.Kofi Adomah get well soon
Subscribe to watch new videos
Background
Kofi Adomah Nwanwanii, a media personality at the Angel Broadcasting Network, has been admitted to hospital following an attack on him by some unknown men.
The incident is said to have occurred on Saturday, August 6, 2022, around Old Ashongman.
READ ALSO: Kofi Adomah's wife comments for the first time after her husband's attack
According to information gathered, Mr. Adoma, who is the CEO of Kofi TV and the host of Angel FM's morning show, was returning from Kuntunse, when the attackers crossed him.
The men, who were on motorbikes and armed with sharp objects, left injuries on the presenter's face, arms and shoulders.
Further reports indicate that they attempted to set him ablaze after pouring some substance believed to be petrol on him. READ MORE HERE