MC Oluomo's children make money rain on him at first wife's birthday party (Video)
The head of the Lagos state branch of the National Union of Road Transport Workers, Musiliu Akisanya better known as Mc Oluomo receives unending love from his children at his wife's party.
Videos circulating on the internet captured a heartwarming moment where his children, at his first wife's Alhaja Modinat Adunni Akisanya birthday party, delighted him with their affectionate gestures.
The union chairman's first wife recently celebrated her birthday, and their children organized an extravagant celebration in her honour.
MC Oluomo, who had returned from France to participate in the festivities, was pleasantly surprised and touched by the grand display of love from his children.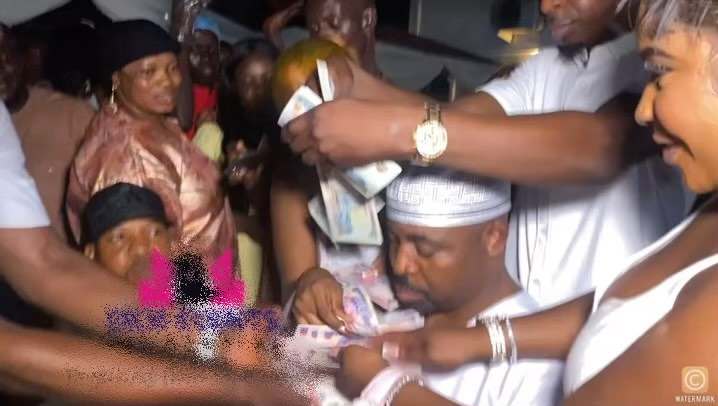 As they serenaded him, his children showered him with money, leaving him in awe. This heartfelt gesture further reinforces MC Oluomo's reputation as a devoted father, constantly displaying his affection and care for his children, both within Nigeria and abroad.
MC Oluomo's heart-melting note to his wife on her birthday
The union chairman had taken to his Instagram page to shower his wife with unending love while sharing a loved-up photo together.
He wrote;
"Happy birthday to my amazing wife Alhaja Modinat Adunni Akinsanya @officialadunniadee. Today, I celebrate the most important person in my life who has been by my side through thick and thin.
You are more than just a wife, you are my partner, my confidante, and my best friend. Your love, support, and unwavering commitment to our family is truly inspiring.
I am grateful for every moment that we have shared together and I look forward to many more years of love and happiness with you.
May your birthday be filled with all the love, joy, and blessings that you deserve. Happy birthday, my love."
Watch the videos below …