Lydia Forson defends Black Sherif over £50K performance fee
– Advertisement –
Actress Lydia Forson has rallied behind young musician Black Sherif after he was slammed for rejecting £10k for a show in the UK.
In a Tweet, the beautiful actress asserted that if Black Sherif believes he is worth the amount of money he was demanding, the organizers had the choice to either pay him or find another musician.
According to the actress, those who are criticizing the 'KTT' hitmaker are the same people who will mock him when he is 'broke'.
Lydia Forson tweeted; "If he believes that's his worth, either pay up or move to the next person, it's that simple. You are the same people that will clown him if he's in a trotro. At least when he shows his mansion someday you won't come and ask where he got his money".
ALSO READ: "Black Sherif rejects £10K for a UK show; charges £50K
See tweet below;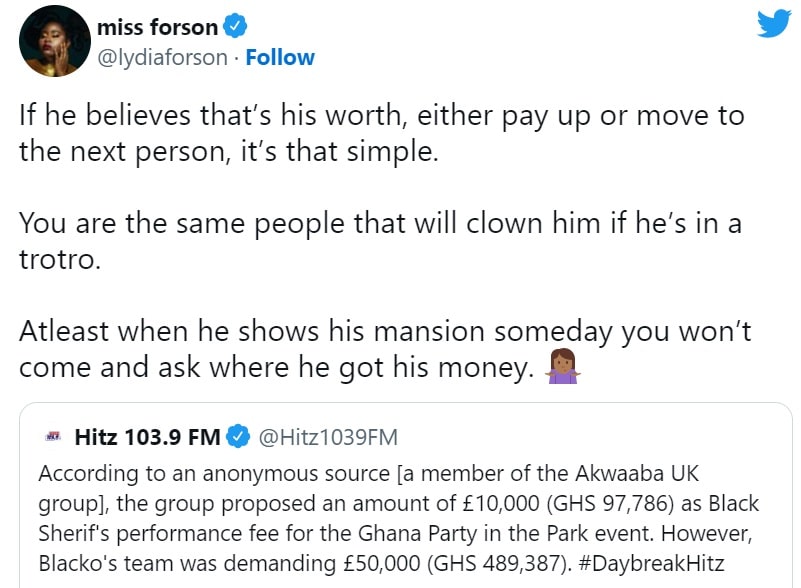 This comes after it was reported that Black Sherif rejected an amount of £10,000 for a performance fee at the just-ended Ghana Party in the Park.
According to reports, the musician's manager claimed his artist was worth more than that and demanded £50,000.
Some netizens reacted to this news and stated that Black Sherif should have accepted the initial fee as they believe he is not worth such a huge amount.