Kofi Adomah was lashed by a woman – Mmrantiehene alleges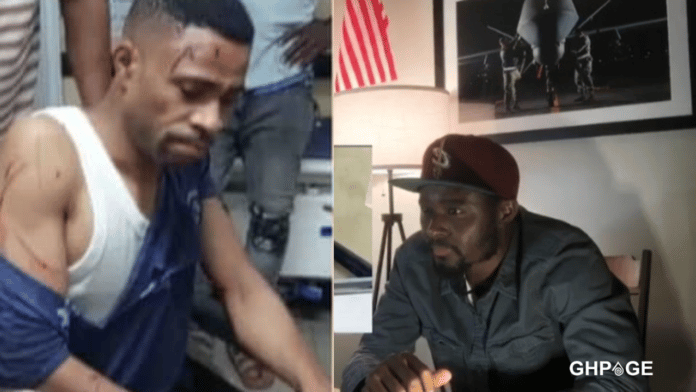 Popular social media commentator and Youtuber, Mmrantiehene is the latest person to comment on Kofi Adomah's viral attack saga that has since become a national topic after it went viral last Saturday.
While many Ghanaians are consoling Kofi Adomah after the attack, Mmrantiehene on the other hand seems to be very happy about the development.
READ ALSO: Kofi Adomah is being haunted by the ghost of Ama Martha – Evangelist
Speaking in a Facebook life, Mmrantiehene widely alleged that Kofi Adomah was severely lashed by one of his many girlfriends after a heated argument.
Mmrantiehene continued that he knows the lady who lashed Kofi Adomah and if he dares come out to deny his claims, he will drop the identity of the lady and further grant an interview with her for the truth to come out.
The vlogger who seems to know more about the assault on Kofi Adomah explained that the presenter was never attacked by armed robbers as he wants Ghanaians to believe and he came up with the fake "armed robbers" cock and bull story just to save himself and the impending disgrace.
READ ALSO: Kofi Adomah speaks for the first time after attack
Going on to cement his allegations that Kofi Adomah was never beaten by armed robbers, Mmrantiehene argued that the wounds on Kofi Adomah are minor and were not caused by a sharp object but rather by a cane.
According to Mmrantiehene, Kofi Adomah's latest predicament is as a result of his serious womanizing habit which he has refused to quench and stick to his wife alone.
Watch the video below to know more…
READ ALSO: Afia Schwar reacts after Kofi Adomah was nearly burned alive
Subscribe to watch new videos
Meanwhile, Ghana Police Service has launched investigations into the attack on Kofi Adomah which he claims nearly took his life.
No suspect has been arrested as of the publication of this article but we are certain arrests will be made very soon and the culprits would be rough to book to endure the full weight of the law.