I told him no kissing in public – Bridget Otoo
Broadcaster Bridget Otoo last Saturday tied the knot to Dr Evans Agoo who is alleged to be the ex-boyfriend of Abena Korkor in a simple and private ceremony.
At the event, the famous and outspoken journalist tried to kiss her husband but she was snubbed by him making people at the event laugh out loud.
When the video surfaced on social media, people started asking questions as to why he would snub a kiss from his wife on their wedding day.
After possibly coming across the countless question about that incident, the broadcaster took to her social media handle to explain that he was just sticking to the plan.
According to her, he had told him before the event that there would be no public kissing to which he agreed and she even had to remind him some few minutes before he placed the ring on her finger about their no kissing agreement.
She added that she had planned in her head that if her husband should try kissing her during the event, she would have swerved and made him fall but that didn't work.
Bridget continued despite bringing up the no kissing in public agreement, she couldn't stick to it as she tried to kiss him and got what she deserved.
She posted: "My favourite video @mantseBiAgo I agreed no public kissing and in fact I was emphatic that if he tired kissing me, I would swerve and he would fall, b4 he put the ring on my finger I reminded him No Public Kissing… but see who broke the rule when we came out"
See the post below: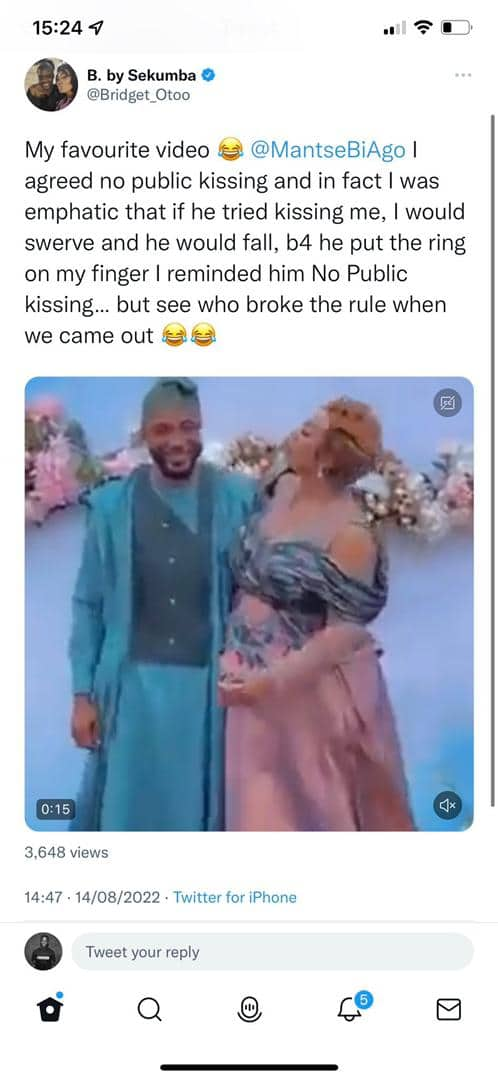 The post has so far been deleted from her timeline.