Golfer Hudson Swafford left bewildered after club head flies off mid-shot at the Masters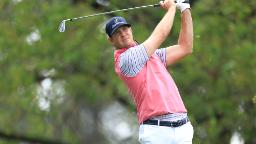 Matthew Fitzpatrick lies on the seventh green to visualize a putt during the second round of the Masters golf tournament on Friday, April 8.
Erik van Rooyen plays his tee shot on the fourth hole Friday.
Fans — or patrons, as they're referred to at Augusta National Golf Club — carry beverages near the seventh hole leaderboard on Friday.
A view of the 10th green on Friday.
Dustin Johnson, the 2020 Masters champion, reacts to a missed putt on the seventh hole Friday.
Masters pins adorn a fan's hat on Friday.
Tiger Woods tees off on the fourth hole during the first round Thursday. He finished with a 1-under-par 71 in his return to competitive golf.
Jordan Spieth, who won the Masters in 2015, ducks under a rope after playing a shot on the seventh hole Thursday.
Scorers update the leaderboard on No. 11.
Sungjae Im putts on the 16th green on Thursday. The South Korean shot a 5-under-par 67 to lead after the first round.
Viktor Hovland looks for his ball on the 13th hole Thursday.
Justin Thomas hits a shot on the sixth hole Thursday.
Former Masters champion Danny Willett reacts to his tee shot on No. 18.
Woods is applauded as he walks onto the 16th tee on Thursday.
Joaquin Niemann tees off on the 11th hole Thursday.
People watch Woods tee off on the 12th hole Thursday.
Matthew Wolff, not pictured, gets a ruling from an official after his ball was imbedded into the lip of a bunker on the first hole Thursday.
A crowd watches Woods tee off on the third hole Thursday.
Defending champion Hideki Matsuyama plays a shot from a bunker on the second hole Thursday.
From left, honorary starters Tom Watson, Gary Player and Jack Nicklaus gather on the first tee Thursday.
Raindrops coat the jacket of a gallery guard on Thursday. Rainy weather pushed back some of the tee times.
From left, Fred Couples, Woods and Thomas skip balls on the water at the 16th hole on Wednesday. It's a practice round tradition at Augusta National.
Weather warning signs are brought out on the range on Tuesday.
Cameron Davis tees off on the 14th hole during a practice round on Tuesday.
Couples greets fans during a practice round on Monday. Couples won the Masters in 1992 and remains a fan favorite.
An insect lands on one of Augusta National's famous azaleas on Monday.
Caddies examine the 13th green during a practice round on Monday.