Don't tell me how to live my life – Tracey Boakye strongly warns her friends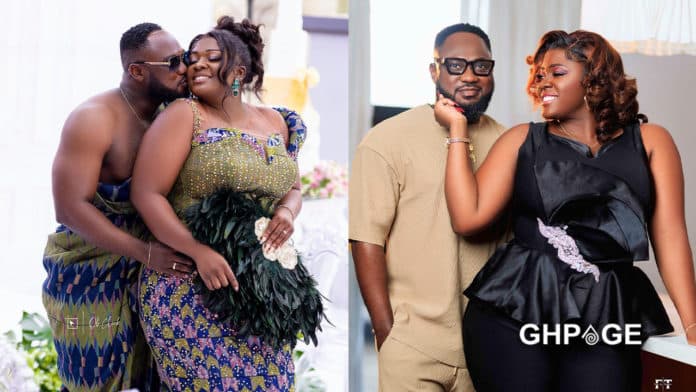 Tracey Boakye has unequivocally warned friends in her close circles against advising her or drawing her attention to things people say about her on social media – whether positive or negative.
In the days after her wedding to her husband Frank Badu Ntiamoah, the 31-year-old actress has been in the news for all the wrong reasons as the marriage has been shrouded in so many controversies.
READ MORE: Tracey Boakye's 'Thank You' billboard allegedly mounted on Vivian Jill's junction
Evidently, Tracey Boakye has seen all the remarks on social media and the reactions from well-meaning friends in her inbox coaching her on how to handle her affairs.
In her response to all the hullaballoo, the mother-of-one said she is mature enough to take responsibility for her actions and will no longer tolerate people who want to intrude into her privacy.
READ MORE: Tracey Boakye's marriage to Frank is a contract marriage – Oboy Siki speaks
In a series of posts sighted on her WhatsApp status, Tracey said she does not need anyone's direction in life and emphatically warned people in her contact list not to interfere in her personal business.
"Attention! To all my WhatsApp contacts here, if u see anything on social media or hear anything negative or positive about me. DON'T COME AND ADVICE OR TELL ME. I don't need it!l! Use that advice for yourself! Don't come and destroy the good relationship we have, by making me tell u NONSENSE! Keep your advice and let's respect ourselves! THANK YOU"
She intimated that anyone who will incur her wrath will regret having her as a friend or confidant.
According to Tracey, she is successful, rich and an influential public figure, hence expects criticisms and the divided opinions of "foolish people living in their single rooms".
READ ALSO: Yes, Vivian Jill was Tracey Boakye's godmother – Bernice Asare confirms
She says, however, that she does not expect her friends to pick on those comments to offer her counsel.
Below are more screenshots of Tracey's warnings via her WhatsApp status: 
While allegations of snatching her husband from her godmother Vivian Jill have been rife, the authenticity of the marriage has been under scrutiny, while doom prophecies have been pronounced by others.
RED MORE: Vivian Jill breaks silence on her alleged relationship with Tracey Boakye's husband, Frank
Indications from all indications, the comments circulating on social media are that many waiting to wake up to the news that Tracey Boakye and Mr Frank Badu's marriage has hit the rocks.
As to whether this will ever happen or not, nobody can surely say but dooms day is something we don't wish for the newlyweds.