Daughter of Mami Wata replies Asamoah Gyan after he exposed her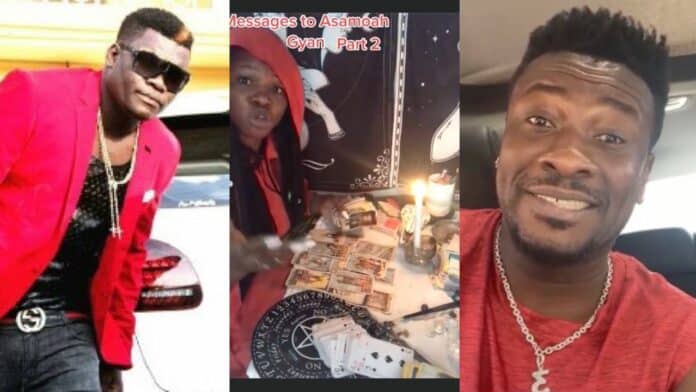 TikTok witch doctor-cum-fortune teller known on the social media app as Akosua Moon Goddess has replied to Asamoah Gyan's threats on her after the footballer rubbished her accusations.
According to her, Asamoah Gyan masterminded and executed the eventual killing of Castro as a plot to end his career.
In an earlier video, Moon Goddess boldly accused Asamoah Gyan as the killer of Castro.
After fingering the football star as the killer of the late musician, she also asked Asamoah Gyan to come forth to tell Ghanaians about his diabolical deals, which were hinged on greed and motivated by envy to kill the promising singer.
Meanwhile, Asamoah Gyan has reacted. According to him, he is unperturbed by the actions of the witch doctor to soil his reputation. He intimated that he has become used to the false accusations about his alleged involvement in the death of Castro.
However, he warned the witch doctor to tread carefully as he was poised to clear his name and put her in her proper place.
READ ALSO: Asamoah Gyan exposed as killer of Castro by witch doctor, player reacts
Moon Goddess has dropped another set of videos in reaction to Asamoah Gyan's threats on her. According to the witch doctor, Asamoah should shut up before she destroys him.
Speaking in a trending video while consulting her spirits, Moon Goddess categorically stated that she's ready for Asamoah Gyan and ready to face him wherever he drags her to.
She continued that Asamoah Gyan killed Castro because he was jealous of Castro's unmatched talent and wanted to be like him.
Subscribe to watch new videos
This case is very sensitive and might land in court very soon because Asamoah Gyan's hard-earned reputation is at stake.