'Continue to be yourself' – Mahama tells daughter following viral twerk video
– Advertisement –
Former President Mahama has urged his daughter and last-born, Farida Mahama, to continue to be herself and not conform to the narrow norms of society.
In a birthday message to Farida Mahama, Mr Mahama was full of praise and admiration for his daughter who has blossomed into a beautiful damsel.
Although Farida Mahama's twerk video has been viral, Mr Mahama has considered it as part of youthful exuberance and on her birthday has rather wished her growth and success.
In a social media post, Mr Mahama did not only promise 15-year-old Farida Mahama of his love and support but also urged her to be herself and accept who she is.
With an accompanying photo of Mr Mahama, Mrs Lordina Mahama and Farida Mahama, the former president wrote:
Baby of the family. All so grown up already. Happy 15th birthday, Farida. Lots of love from me, your mother and brothers. Continue to be yourself and grow beautifully.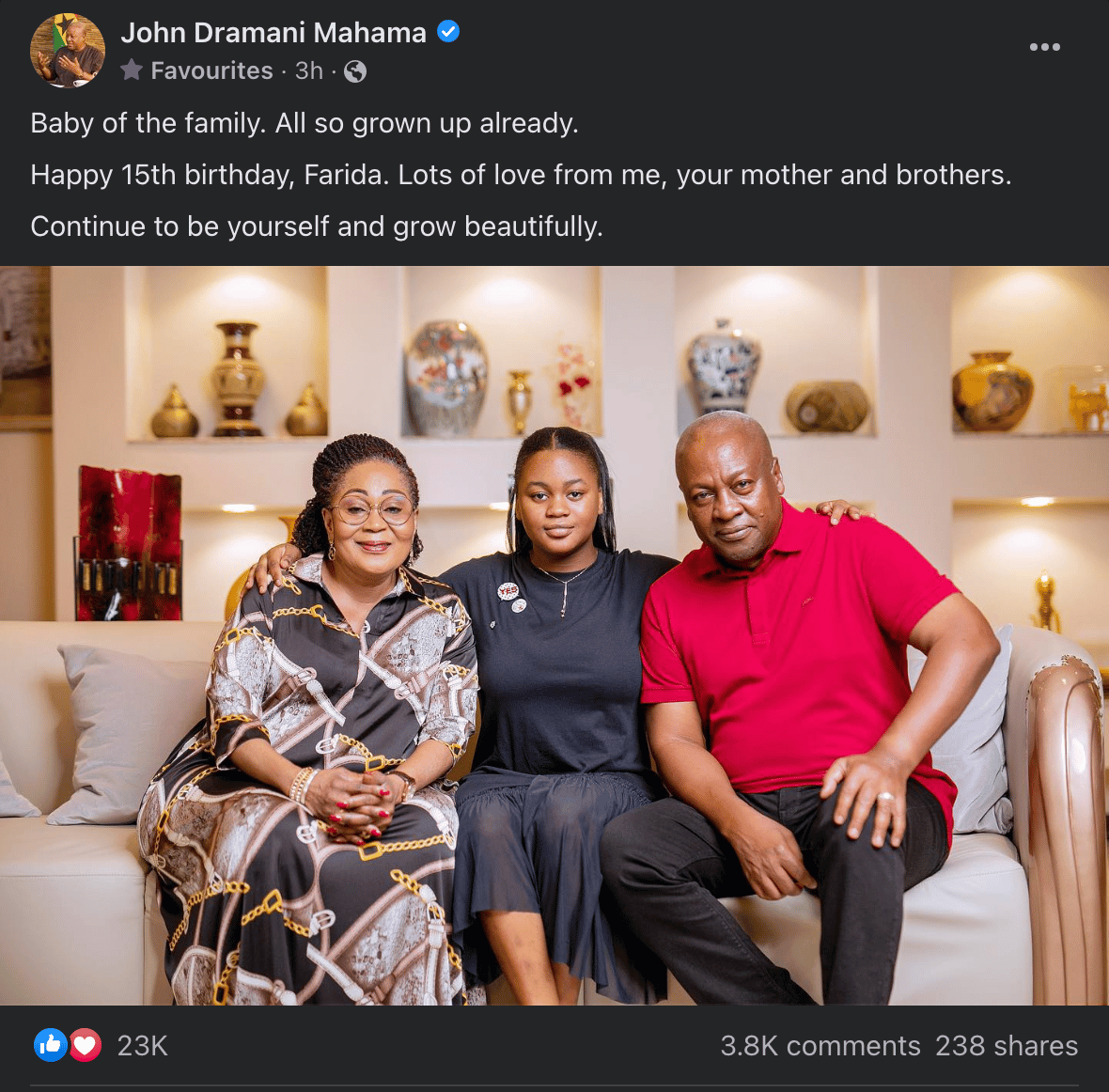 Ex-President Mahama's daughter, Farida storms social media with a wild twerking video
The daughter of ex-president John Mahama, Farida Mahama has caused an uproar on social media with a wild twerking video.
The video has come as a shocker to social media users as it has caused mixed reactions and has got them talking.
In the viral video, Farida who was at home wore seductive short pants and a black top, placed the camera in a good spot and flaunted her curves.
The ex-president's daughter is heard in the video saying that she's gonna teach the 'up down' twerk though she's not a professional twerker amid serving it hot to the camera.
Watch Video Here…